About this trip
From: Zagreb, HR To: Split, HR
Average trip duration
5 h 7 min
Bus companies operating on this route
About travel route
Zagreb - Split
Zagreb – Split is one of the busiest bus routes in Croatia, with approximately 20 departures each day. Bus leaves from Zagreb practically every hour. You can travel to Split whenever you want to – straight early in the morning, around noon or later at night.
Average trip duration is around 5 hours with one or two stops on the way. Usually, traffic is flowing normally on this route. However, strong wind bura during winter or highway rush hour during summer could halt your trip so check the weather and traffic information beforehand.
The departure / arrival time, the trip duration and the number of bus stops depend on your choice of a bus carrier and the route – an old or a new highway. Be sure to check them out before you purchase a bus ticket.
One-way bus ticket can be purchased from 11.7 € / 12.3 $ to 18.5 € / 19.41 $. Return bus tickets can be purchased from 18.7 € / 20.3 $ to 29.5 € / 31.4 $. Regardless of the weather season, air-conditioning mounted in every bus on this route will make sure you're not too hot or too cold.
Every bus comes equipped with a TV and most of them offer WiFi signal. Though, WiFi network in the bus can sometimes be congested with almost all the passengers checking out social media to shorten their trip.
Bus station Zagreb and bus station Split have lots of useful facilities like a public toilet, a wardrobe, caffés, and newsstands. Besides, both bus stations are placed near both town's centre so, if you have a couple of hours extra, feel free to go on a quick sightseeing tour before departure / upon arrival.
List of carriers Zagreb - Split
AP Imotski - Autoherc

AP Varazdin d.d.

Autopoduzece Z - Imotski d.d.

Autotrans d.o.o.

Croatia Bus d.o.o.

Clissa d.o.o.

Deni - Bus j.d.o.o.

Samoborcek - Samobor
Bus station Zagreb
Salty sticks, sandwiches and drinks are available on newsstands, bakeries, and grocery store at anytime at the bus station Zagreb. While you're waiting for departure, you can check your bags at the luggage storage and go for a drink in a nearby café.
Don't forget to go to the public toilet before the trip. It'll cost you only 0.4 € / $. You can find out more about bus station facilities at the information counter.
Zagreb – Split journey
Since the opening of the new highway, an average duration of the bus travel from Zagreb to Split has decreased enormously. Most of the bus operators will take you to the heart of Dalmatia in about 5 hours. Estimated trip duration depends on the route you'll be taking (old highway or new highway) and the number of bus stops to Split.
The bus ride on the new highway is safer and quicker. Bus on this route will stop at least once. Even direct routes, that are traveling on the new highway, with no bus stops mentioned in the schedule. A number of bus stops in timetable signify the number of bus stations where the bus will stop to unload / carry new passengers. It doesn't include an occasional stop at the gas station for a rest.
Bus stop at the gas station usually last about 15 minutes. That's more than enough to stretch your legs, go to the public toilet, sip some coffee, take a bite, check out a weather information, and contact your friends and family on the phone. However, the price of coffee, food, and other items is much higher at the gas stations than the bus station.
On the other hand, the old highway will reward you with magnificent views of nearby cities, places, meadows, forests, and the sea. Apart from summer, traffic is flowing normally, but the bus stops on this road are more frequent. Some say this is the best way to experience Croatia.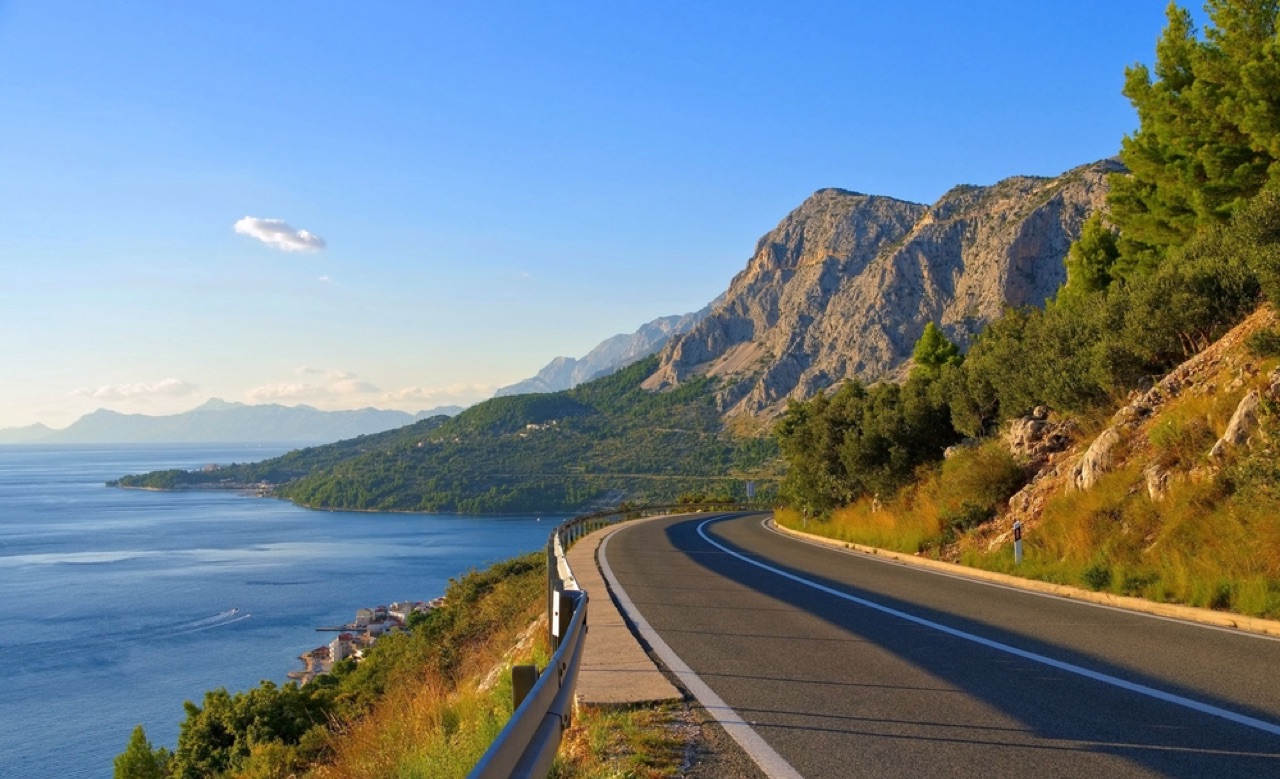 Bus station Split
Upon arrival in Split bus station if you're not too tired from the trip, don't sit at the first café you see. Leave your bags at the nearest luggage storage on the bus station or your hotel (if it's nearby) and stroll along the coast until you get to Split's main promenade - Riva.
There you can sit in a café with a beautiful view. While you're walking to Riva from the bus station, you could grab something to eat at various local bakeries and fast food joints. People around here are very cordial so feel free to ask them for any information about the town.
Zagreb – Split bus operators information
All the bus carriers on this route are equipped with air conditioning and TV. FYI, coach drivers usually run romcoms on TV. If you don't like this particular genre, you'll be pleased to hear that most of the coaches have WiFi signal so you can do something else on your phone. One of the bus carriers also offers the luxury of a built-in toilet, electric sockets and free of charge luggage.
Why you should travel from Zagreb to Split by bus
Ticket fare, trip duration, and convenience are three top reasons why you should travel from Zagreb to Split by bus. Airplane ride will take you only 45 minutes but, with ticket prices starting from 79 € / 83 $, it is by far the most expensive traveling option. Besides, you'll spend an additional period on the check-in and the journey to the airport. Zagreb's airport is inconveniently located on the outskirts of town.
In comparison, when you're buying bus fares, you can practically choose the hour of departure. If you plan to travel by car on the new highway, you'll arrive approximately one hour earlier. However, you will also have to pay for a rent-a-car, a gas, and a highway toll ticket.
Highway toll alone costs around 22 € / 24 $. If you're taking the old highway, you won't have to pay for a toll ticket but your trip from Zagreb will be one hour longer than the bus ride on the new highway, even though the traffic on the old highway is less dense.
In addition, road conditions are much harsher. The train ride from Zagreb to Split is longer and more expensive than the bus ride. Train rides last from 6 to 8 hours. One-way ticket price will cost you around 26 € / 27 $, which is approximately the price of the round-trip bus ticket.
Bus stops on the Zagreb – Split journey
If you want to get to Split quickly, buy a bus ticket for the direct route. If you want to save some money and, in the meantime, see a couple of other Croatian towns, buy a bus ticket for a route with one or more bus stops. Bus operators stop at following cities and places: Karlovac, Zadar, Skradin, Seget Donji, Trogir, Kaštelu, Dugopolje, and Solin. Unfortunately, none of the bus operators on this route currently stop at Plitvice Lakes National Park. If you want to discover Plitvice Lakes, you'll have to take another bus from Zagreb.
Croatia Bus stops at Karlovac, Zadar, Skradin, (NP Krka) and Solin. Karlovac is one of the most important Croatian traffic intersections. It's also known as "The city on four rivers" since four rivers run through it – Dobra, Kupa, Korana, and Mrežnica. Other than that, this renaissance town is famous for its beer factory. A beer festival similar to Oktoberfest (but smaller!) is held each year in Karlovac at the end of the summer.
Zadar is one of the oldest cities in Croatia. The most significant Zadar's monuments - Forum, St Donat's Church and the Cathedral of St Anastasia – were built during the reign of the Roman empire and in the Middle Ages. Today, this Mediterranean town is famous for its Sea organ and "the most beautiful sunset in the world", according to legendary filmmaker Alfred Hitchcock. Except for Croatia Bus, Autotrans bus carrier also makes a bus stop in Zadar.
Skradin is a small, but picturesque town near Šibenik. It's most notable for its rich history and a magnificent view over the river Krka. This beautiful river with seven waterfalls runs through the National park Krka, located in the near vicinity of Skradin. Croatia Bus frequently stops at Dugopolje district, an industrial business zone not far away from Split.
Autoherc bus carrier is taking bus stops in Kaštela and Solin. Kaštela is an agglomeration of seven smaller towns settled along the Kaštela Bay: Novi, Stari, Štafilić, Lukšić, Kambelovac, Sućurac, and Gomilica. Solin was founded at the ruins of an ancient Roman city Salona. Salona was one of the biggest towns in the Roman Empire and the coronation place of Croatian King Zvonimir.
Clissa also makes the bus stop at Kaštela, as well as Seget Donji and Trogir. Seget Donji is a tourist resort near Trogir. Hotels, bungalows, beach bars, restaurants, playgrounds and water sports are just some of the features you'll find in Seget Donji.
Trogir or "The City-Museum" features one of the most preserved historic cores in Croatia, which is why it's listed as a UNESCO's World Heritage Site. Did you know the first European public pharmacy was opened in this medieval town? Other famous Trogir monuments worth visiting are the Cathedral of St Lawrence, Radovan's gateway, and Kamerlengo Castle.
About Zagreb
Zagreb is the capital and the most populated city in Croatia. Zagreb has everything you'd expect from a big city: rich culture scene, diverse gastronomic offer, slightly chaotic traffic situation, exciting nightlife and excellent traffic connection to the other parts of Croatia and Europe. Zagreb Christmas Market has been proclaimed as the best in Europe in 2016. Bus station Zagreb is located in the centre of the town and serves as a great starting point for further exploration.
Symbols of Zagreb – Upper and Lower Town, Zagreb Cathedral and Zrinjevac park – are just 15 minutes away from the bus station by tram. It will take you at least half of day to visit them, more if you're keen on exploring them thoroughly. If you have a couple of hours (or days) more, be sure to visit Maksimir park and ZOO, Mirogoj cemetery, Jarun lake, New Zagreb and Nature park Medvednica.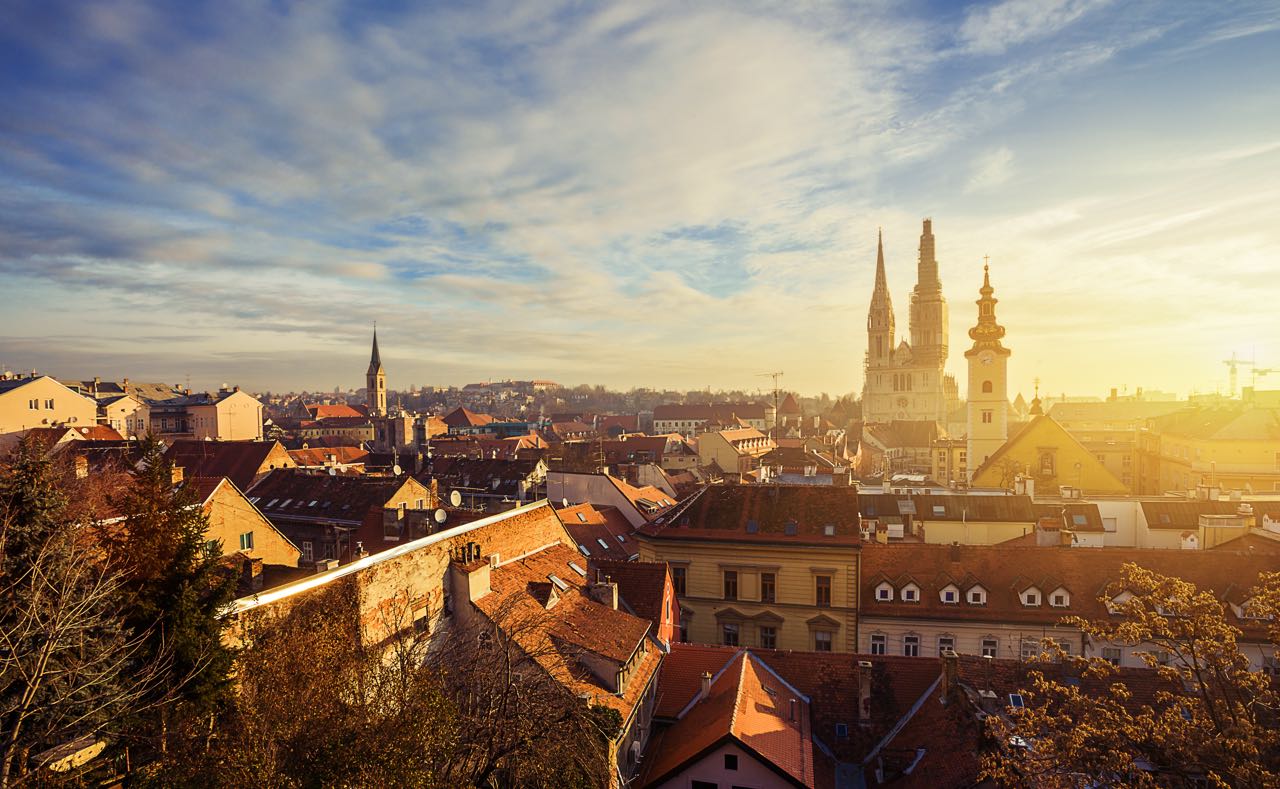 It will take a while and consume a fair amount of energy, though. All of the aforementioned attractions, except for a ZOO, are completely free. You can save the money you'd spend on visiting monuments to indulge in Zagreb's rich and diverse gastronomic offer. Štrukli, ajngemahtec, turkey with mlinci, paprenjaci, apple strudel are some of many local specialties you have to try here. In worst case scenario, i. e. if you don't grow a taste for a local cuisine, you can have dinner at other, various types of restaurants in Zagreb, for example - Chinese, gluten free, vegan, pizza and kebab.
Zagreb is / was a home to numerous significant artists, scientists, writers, athletes and other, politically and culturally, prominent people. Zagreb is the birthplace of great Croatian writers like Miroslav Krleza and August Senoa, athletes like Janica Kostelic and Kresimir Cosic, and scientist Ivan Dikic and Marin Soljacic.
About Split
Split, one of the oldest seaside towns in Croatia, was founded in 4th century by a Roman emperor Diocletian. Diocletian's Palace, city's historic core, was designed to be his beach house after retirement. Nowadays, it's the second largest town in Croatia with a population of 200,000, as well as important cultural, economic, and business centre of Dalmatia region.
Upon visiting Diocletian's Palace, you should definitely walk along main promenade Riva, filled with cafés, restaurants, and stores. Sit at a café and order a cup of espresso. Drink slowly, like it is your last. Trust us, it's the best way to blend in.
If you're staying here for a while, you won't regret visiting Gripe Fortress, Prokurative square and Poljud stadium, football pitch of one of the most beloved clubs in Croatia. During summer, Poljud transforms into a music arena. Famous electronic music festival Ultra was held there in 2016. You don't have to pay anything if you plan to visit Prokurative square, Gripe Fortress, a big part of Diocletian's Palace or nearby hill Marjan.
However, if you want to spend some money, check out the information about boat transport. The Port of Split is located right across the bus station so you can check all the information about boats leaving for Brac, Hvar, Vis or even Dubrovnik.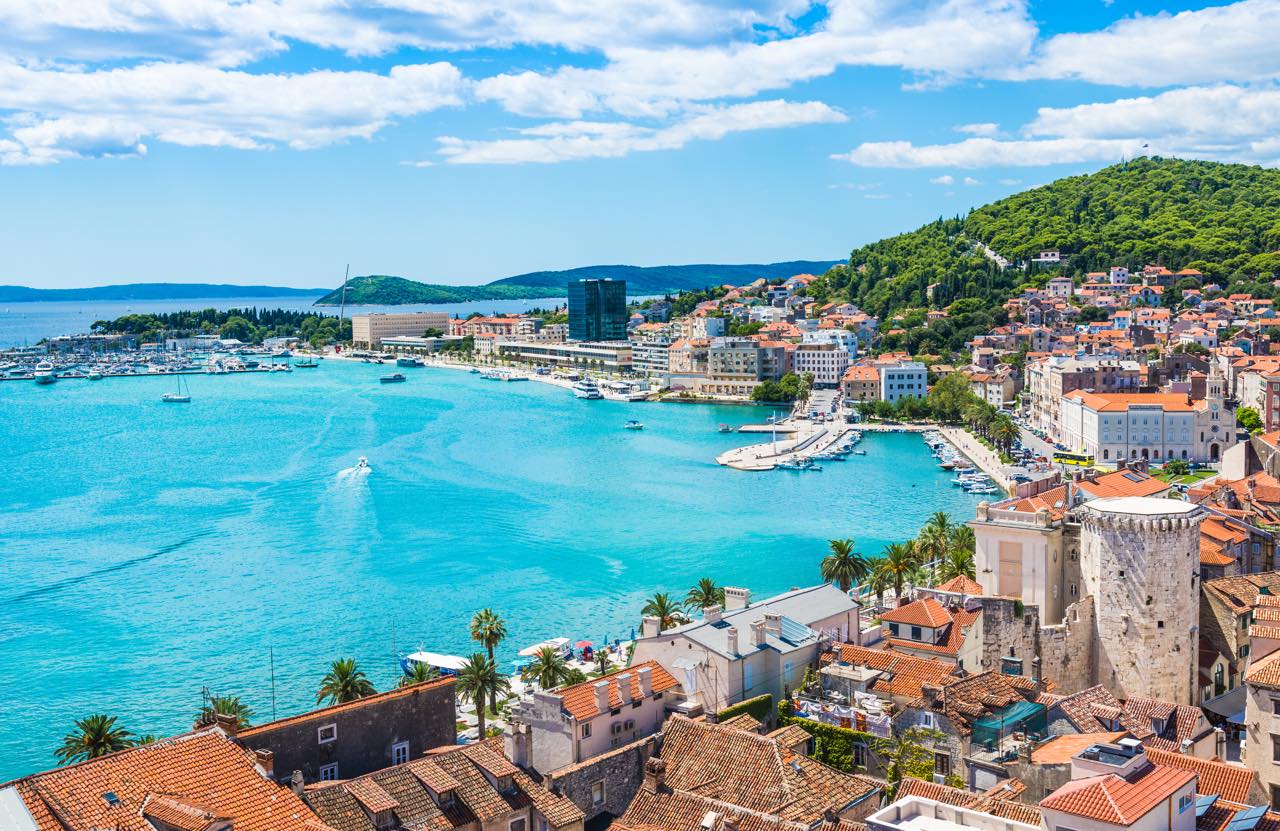 Not surprisingly, Mediterranean cuisine is prevalent in Split's restaurants. Treat yourself with local specialties like Dalmatian prosciutto, pašticada with gnocchi, grilled fish, an octopus salad, a soparnik pie, and fritule. Besides local Mediterranean cuisine, you can find various types of restaurants here - fast food, vegetarian, Turkish and so on.
Diocletian is by far the most famous Split's citizen. Some of the other town's well-known celebrities are a writer and "The Father of Croatian literature" Marko Marulic, a screenplay writer Miljenko Smoje, a scientist Miroslav Radman, a sculptor Ivan Mestrovic, a tennis player Goran Ivanisevic and a high jump athlete Blanka Vlasic.
You need to go back from Split to Zagreb? No problem. Just check possible daily lines and buy your ticket.