About this trip
From: Split, HR To: Zadar, HR
Average trip duration
2 h 42 min
Bus companies operating on this route
About travel route
Split - Zadar
Distance between Split and Zadar is 157 km. The route takes an average of 2 hours and 45 minutes to get to Zadar. The most favorable ticket is currently offered by the Croatia Bus for the price of 70,00 HRK/9 EUR.
This amount is valid for all departures of the mentioned carrier. The most expensive ride on the Split - Zadar route starts its travel at 01:00 a.m. and it's offered by the carrier Autotrans d.o.o. The price of the mentioned ticket is 101,00 HRK/13,5 EUR.
Buses on the line Split - Zadar depart throughout the day. They're divided in a dozen departures.
The largest space between two departures is between 01:00 to 05:00 and also between 21:30 to 01:00.
Contact a clerk at the information desk to find out about: new offers, events, information about buses, discounts and more details about the Split - Zadar route. If you find it necessary ask for an additional services. But please instead of a clerk at the information desk contact your carrier for specific issues such as transporting pets and additional luggage.
List of carriers Zadar - Split
Autotrans d.o.o.

AP Imotski - Autoherc

AP Varazdin d.o.o.

Autotransport d.d. Sibenik

Brioni d.d.

Croatia Bus d.o.o.

Dalmacija bus

Polet d.o.o.

Puntamika Line d.o.o.

Laurus Promet d.o.o.
Bus station Split
The bus station in Split is situated right in the center at street Obala Kneza Domagoja No. 12. It's located right next to the ferry port and the main train station. Since it's a very busy train station, book your ticket on time.
There's a waiting room in the bus station building in Split. However, given the large number of passengers, hurry up if you want to sit down.
As an alternative use the nearby cafe bars. If you need a cash machine, several of them are located on the outside of the facility.
If you have extra luggage don't forget to prepare money because the driver will charge this service for extra. The station is surrounded by fast food restaurants, kiosks and smaller stores. There you're able to buy yourself sandwich and/or soda.
The nearest internet cafe is 200 m away from the Split bus station. Before taking a coffee leave your luggage in the wardrobe that works from 6 a.m. to 10 p.m.
Journey Split - Zadar
Split and Zadar are divided by 157 km of the highway. If you go by the old Adriatic road it'll take you a little bit longer since the distance is 170 km. It takes bus about 2 hours and 45 minutes to get you to the point destination speaking about the drive by highway. Buses that go directly to Zadar are using the highway and during the ride they stop only once.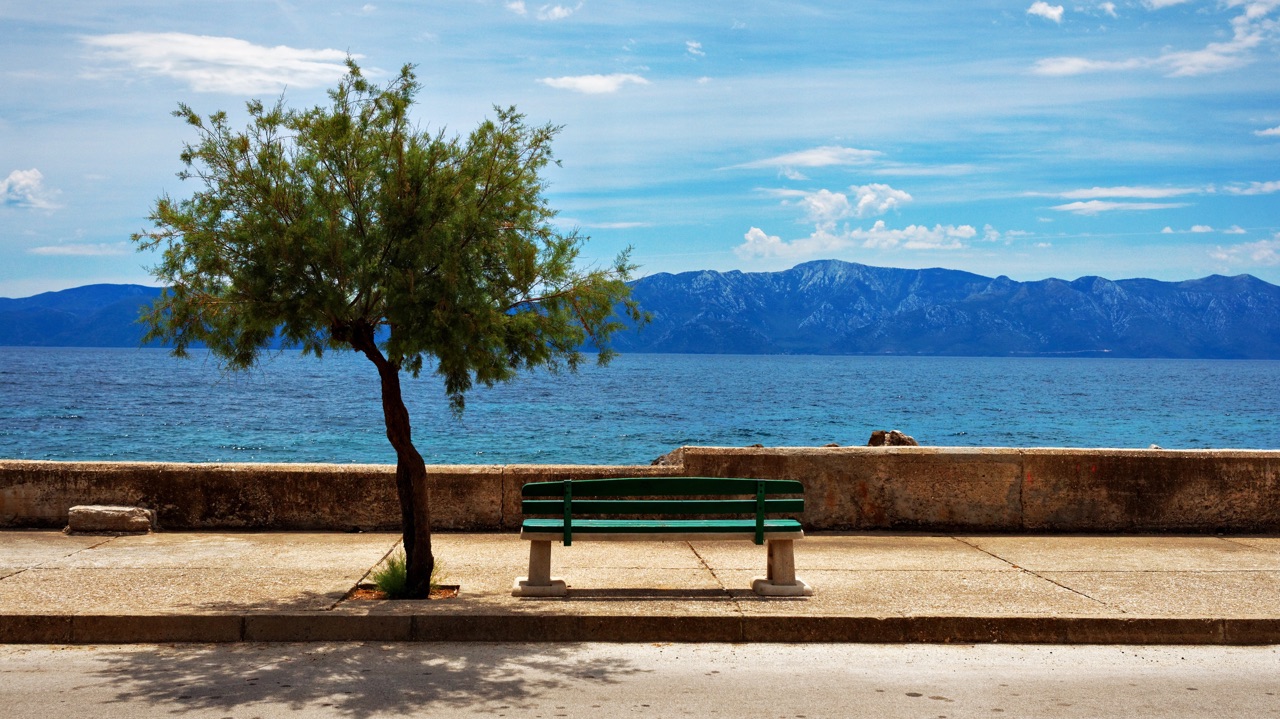 If you choose a bus that drives by Adriatic road, the distance between these two cities is, as we earlier mentioned, 170 km. As you can see, there's no significant difference, but this journey takes up to four hours.
The duration of your journey from Split to Zadar depends on the chosen road. It's best for you to plan your travel depending on the desired arrival hour. Furthermore, prepare some coins. If you need a toilet that usually costs around 3 HRK/0.5 EUR.
Bus station Zadar
Although you're not far from the sea while you're at the bus station in Zadar, we believe that first you would like to take a break. In that case it's good to know that around the station you'll find: cafe bars, shops, sports betting shops, restaurants, exchange offices etc.
The bank is located just across the road. So regardless of what you need you'll be able to find it close to the station.
If you didn't reserve your accommodation, take a walk and ask hosts. Near the station there are a few hotels and apartments. Also, in case you need a train don't go too far from the bus station since two stations are situated close to each other. For specific instructions consult an appropriate counter with the information officer.
Split - Zadar bus operators information
Buses on the Split - Zadar route are modern equipped and international standards are being followed in this segment.
Air conditioning, TVs, WiFi, adjustable light, and storage space above the seat. There are many additional tools and services that make driving more comfortable for the passenger.
TV is especially good for killing boredom when crossing long distances. It should be noted that WiFi is often not working properly. This shouldn't be surprising given the number of passengers and the signal strength which is usually not enviable. So, if you're a serious fan of surfing make sure you have your own web access.
Why you should travel from Split to Zadar by bus
One-way ticket for bus travel ranges from 70.00 HRK/9 EUR without discounts. In addition, return tickets are generally approved for additional discounts.
It's a really good price for a ticket in a bus that has modern equipment. Note that while traveling with a bus you don't have any additional expenses, which is, on the other hand, not a case when it comes to the other forms of transport, such as: airplanes and cars.
The profitability of the car decreases if you count the cost of fuel and toll for the highway. True, this can be avoided if you choose to go by the Adriatic road, but this route usually requires extra time. In that case you'll spend the same amount of time as you would spend in a bus. Still, the choice is all yours.
When it comes to the plane prepare money for transportation to the city center. The air distance between Split and Zadar is 118 km while the airport is 25 km outside of the city of Split. If you insist on a plane don't forget to arrange transportation from the airport to the accommodation.
The railways are dragging the question of the time you'll need to spend on the road. The minimum travel duration for this route by train is 5 hours. On a daily basis there are five trains that depart from Split to Zadar, and are arranged so that the first starts at 8:00 and the last one at 20:00.
Bus stops at the Split - Zadar journey
From Split to Zadar, the bus passes through: Vodice, Sibenik (NP Krka), Primosten and Trogir. Vodice is one of the subregional centers of the Sibenik-Knin County, and have a tradition of tourism for over 60 years. Many tourists are attracted by the Vodice's summer and the nightlife it offers.
Sibenik is the oldest self-proclaimed Croatian town on the Adriatic and is the cultural, tourist and economic center of its County.
Next, the bus passes by Primosten, situated on a small island that is sand-connected to the mainland. Finally, Trogir, a city rich in museums, is located in the northwestern part of the Kastela Gulf.
About Split
Split is one of the oldest Croatian coastal towns. His most famous citizen is undoubtedly Diocletian. Besides, it's worth mentioning: Marko Marulic - writer, Miljenko Smoje - screenwriter, Ivan Mestrovic - sculptor, Goran Ivanisevic - tennis player, Blanka Vlasic - athlete and Miroslav Radman - scientist. Apart from tourist and cultural, this city is also the economic center of Dalmatia. There are many sacral buildings in it, such as churches and monasteries.
During the visit we recommend that without spending a single kuna/euro, you visit Diocletian's palace and walk through Marjan and Riva.
Numerous restaurants offer traditional Mediterranean cuisine where you can try a whole range of specialties, f.e. octopus salad.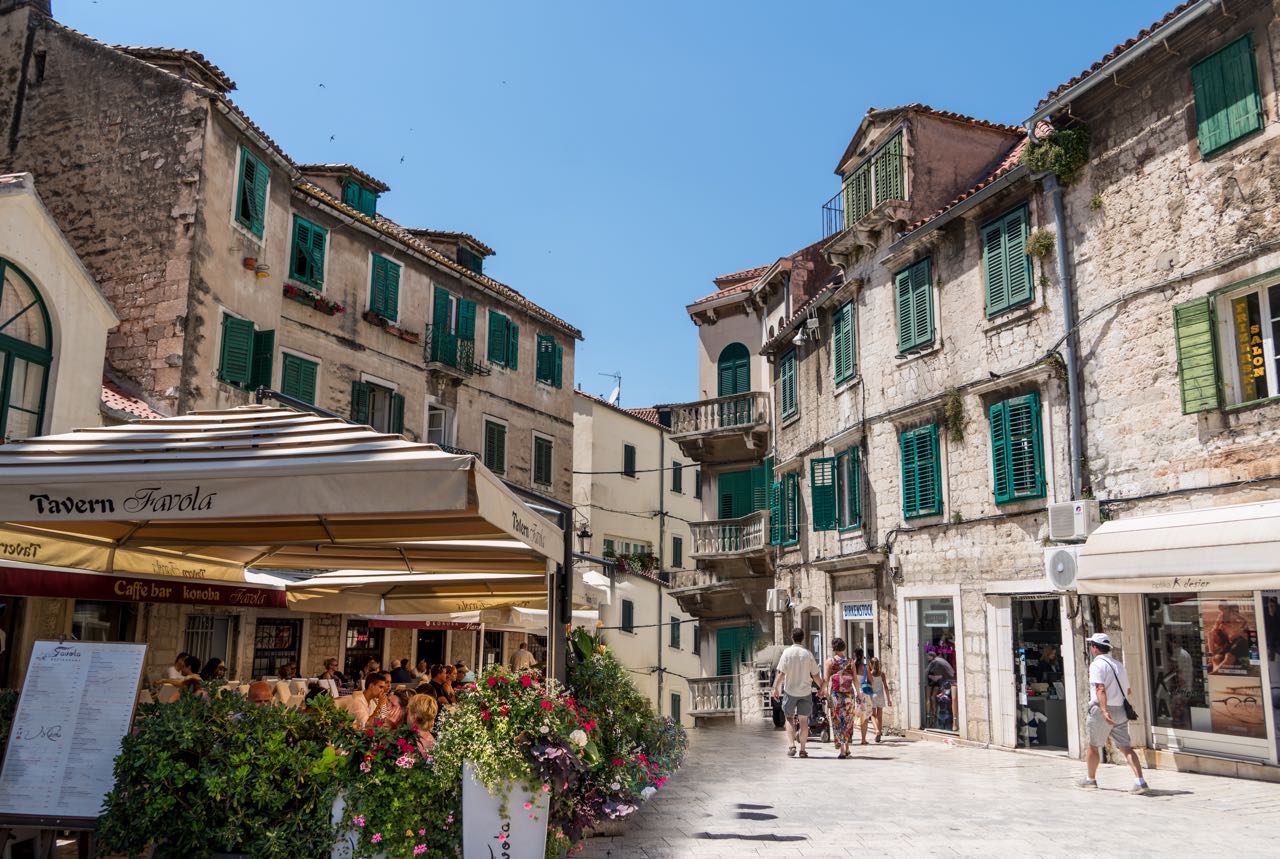 After that go get yourself a coffee at one of the many cafe bars. In the year 2016, Split hosted the Ultra Europe festival, and it was also a popular venue for film-making. In addition, it is expected that by the year 2030 the Split Riviera will have as much as 9 million overnight stays per year. In case you like classic shopping, head to the Mall of Split. Opened in 2016, Mall of Split is the largest shopping mall in Dalmatia.
When you're finally tired of Split go visit the surrounding islands by boat: Brac, Hvar, Vis and Solta. Finally, in Croatia nothing is too far so you don't have to be limited to the nearby locations. Labin, Rovinj, Porec, Umag and similar places in Istria are very close. Plus, we must mention Dubrovnik as one of the most popular destinations in the Republic of Croatia.
About Zadar
Zadar is the city, port and center of the Zadar County. From the sights we suggest you to see: Sea Organ, Greetings to the Sun, Forum, National Square and the Five Wells Square.
After a sightseeing tour, take a walk through Kalelarga - the main Zadar street from a distant past, whose official name is Siroka ulica. There you'll find various facilities and services, such as: shops, restaurants, cafes, ATMs, etc.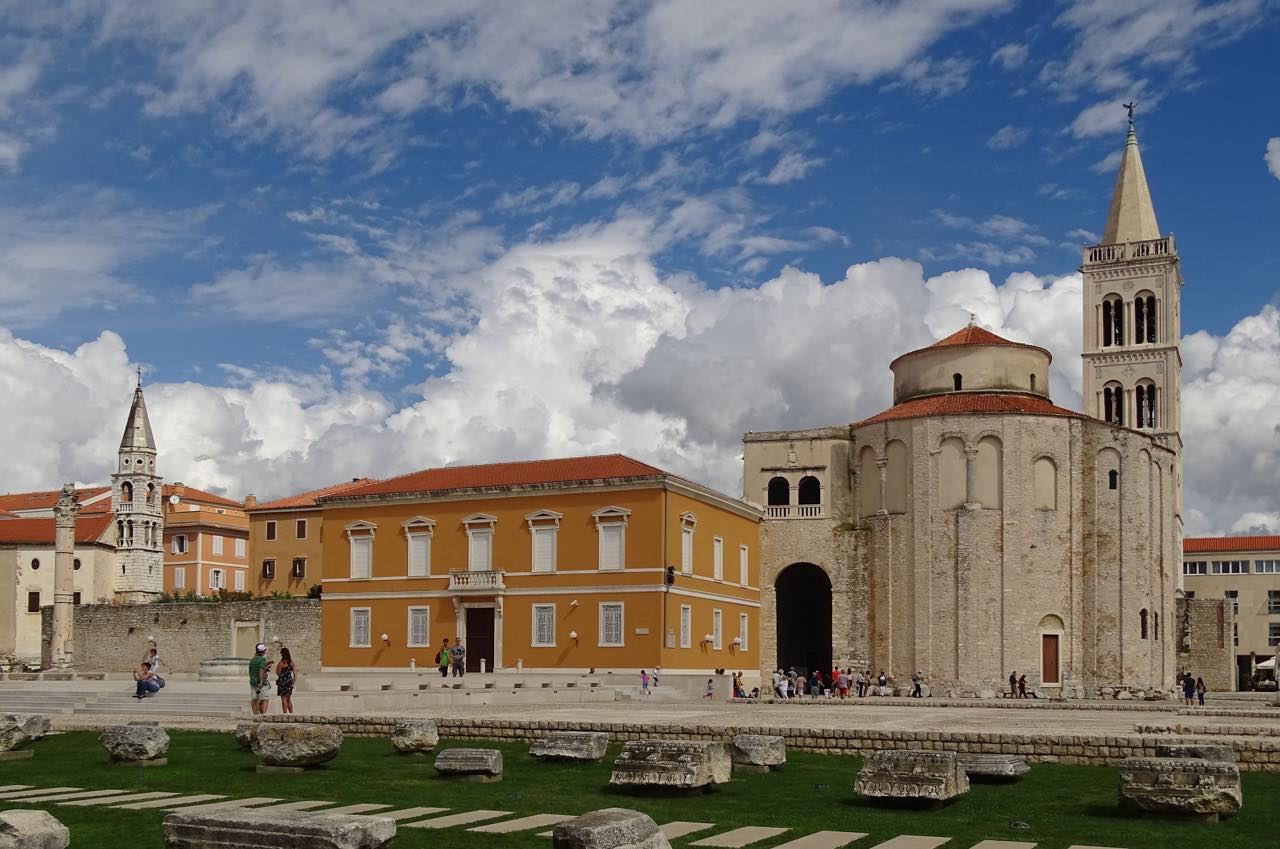 If you are interested in renting a room immediately check out the surrounding hotels and hostels. In case you want to have some fun and spend a night out go to some of the clubs. For example: The Garden, Cult, Maraschino Bar and Vinyl Bar are just some of them.
Many well-known and influential people are born here. For example: Maja Blagdan and Natali Dizdar - singers, Mladen Grdovic and Tomislav Ivcic - also singers, Doris Pincic - director and actress, brothers Lucijan and Franjo Vranjanin - sculptors and Petar Zoranic - writer.
You've had enough of Zadar? No problem. The popular island of Pag (Gajac, Novalja) is only 55 km away. For only 50 kuna/6.5 EUR you can buy a bus ticket and be there within an hour. We suggest you to check the timetable on the web.
If you want to go further, plan your trip and consider visiting one of these locations: Dubrovnik, Vela Luka, Makarska, Split, Pula, Rijeka, Plitvice Lakes and Zagreb.
Rijeka is the largest port and the third largest city in Croatia. Located in Kvarner, it's an important hub and a place for tourists.
If you go to Zagreb visit Lower and Upper City, explore the sights and enjoy the parks. The surrounding area is equally rich with interesting things so if you have an extra day, be sure to visit at least some of these destinations: Samobor, Karlovac and Dugo Selo.
Outside of Croatia we suggest you to explore some of these popular travel destinations: Sarajevo, Medjugorje, Belgrade, Podgorica and Ljubljana. If you come back from Zadar to Split, ask hosts about interesting events, such as concerts, exhibitions and performances, and secure your ticket in time. Time to go home? Use Vollo to find the easiest and also the fastest way to your hometown.